---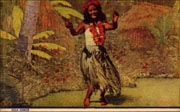 BATES COLOR CARDS
---
The following is a list of all the Bates Color Cards that are currently known. If anyone is able to add to this list, please submit a photocopy of the front and back to the Hawaii Postcard Club (the address is on the home page). Bates was a Honolulu-based publisher from the 1930's and 1940's and the postcards were printed in Hawaii.
| | |
| --- | --- |
| | Bates Color Cards are very distinctive from all the other Hawaiian postcards that were published, in that the backs were printed with a unique basket weave pattern in color (like the postcard on the left). The small image at top middle left which looks like a water stain, is in fact, upon closer inspection, a basket with leis spilling out of it. |
(Note from the former HPC President "These are some of my personal favorites as the majority depict native Hawaiian flowers".)
The list is in alphabetical order of the printed wording on the view side, exactly as printed on each postcard. (Wording in brackets is not printed and just helps to explain the view side better)
Aloha Oe
Bird of Paradise Flower
Bougainvillea
Cup of Gold
Flame Tree
Flower Leis
Gardenia
Gladiolus
Hawaiian Lei Sellers
Hawaiian Net Fisherman
Hawaiian Outrigger Canoe
Hibiscus (small yellow flower + pink flowers)
Hibiscus (large yellow flower )
Hula Dancer (see the image at the top of this page)
Ilima Lei (worn by Hawaiian Royalty)
Iolani Palace
Kaneohe
Koko Head Beach
Lantana
Lei Queen
Lei Sellers
Lilia O Ka Nile
Mountain Apples
Night Blooming Cereus
Nu'uanu Pali
Okoleoioi
On the Beach at Waikiki
Orchid
Panini (flowering cactus)
Plumeria
Red Hibiscus
Torch Ginger
View from Diamond Head
View of Honolulu
Waikiki Beach (Moana Hotel)
Waikiki Beach (Diamond Head)
Zinias
TOTAL 37 DIFFERENT POSTCARDS
Thanks to Leon and Dolores Rowe for their help with this list.
There also exists foldout multi-postcards with the above designs on.
---
back to Hawaii Picture Postcard Publishers
back to Hawaii Postcard Club homepage